Product Shipping and Trading ISO Certification Ceremony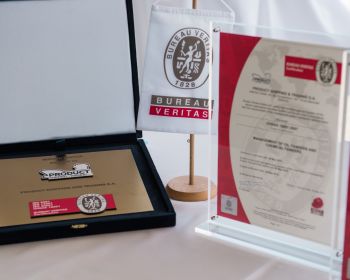 22/07/2015
True to our commitment to continual improvement, on April 28th 2015, Product Shipping and Trading was audited and awarded certification by Bureau Veritas for the following ISO Standards:
9001:2008 Quality Management System
OHSAS 18001:2007 Occupational Health and Safety management systems
14001:2004 Environmental Management Systems
ISO 50001:2001 Energy Management System
Official ceremony took place on June 2nd 2015, at the Yacht Club of Greece. Award was given by Bureau Veritas Vice President & Regional Chief executive for the Hellenic & Black Sea Region, Mr. Lambros Chahalis to the owner Mr. Petros Pappas and the Chief Operating Officer of Product Shipping and Trading Mr. Stylianos Siafakas.
The ceremony was attended by all PST members involved in the implementation and certification process along with representatives from the Marshall Islands registry, representatives of the Hellenic Maritime administration and management team of Bureau Veritas.
Many thanks to all who worked toward achieving this goal!